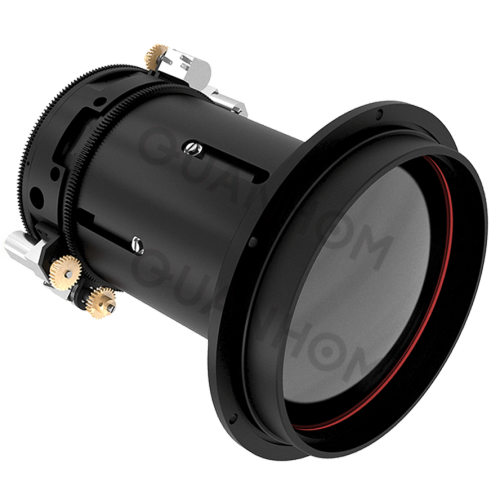 IR Zoom Lens 15-120mm f/0.8-1.2
Item specifics
LWIR Lens

15-120mm f/0.8-1.2
Applications

Security and Surveillance
Mechanical Interface

Thread
Description

Specifications
Detail image
Download file
FAQ
Video
Applications
| | | | | | | | | |
| --- | --- | --- | --- | --- | --- | --- | --- | --- |
| HFOV | 160x120 | 320x240 | 336x256 | 384x288 | 640x480 | 640x512 | 1024x768 | 1280x1024 |
| 35μm | / | / | / | 6.4°-48.3° | / | / | / | / |
| 25μm | / | 3.8°-29.9° | / | 4.6°-35.5° | / | / | / | / |
| 17μm | / | / | 2.7°-21.6° | 3.1°-24.6° | 5.2°-39.9° | 5.2°-39.9° | / | / |
| 12μm | / | / | 1.9°-15.3° | 2.2°-17.5° | 3.7°-28.7° | 3.7°-28.7° | / | / |
Optical

Focal Length[mm]

15-120

F/#

0.8-1.2

Wavelength

8-12μm
Mechanical

Motorized

Φ119x159.75(Front flange

Φ135

)

Weight
Electrical & Communications

Power Input
Environmental

Operating Temperature

Storage Temperature


External Coating

DLC

Front Element Sealing

IP67
| | | |
| --- | --- | --- |
| file name | type | download |
| | PDF | |
Why did the lens adjust to the clearest state in the morning, but found that the picture became unclear when I went to see it at noon?

The effect of temperature on the lens is obvious.
1. The lens will expand and contract due to the change of temperature. Although the change degree of the lens is very small, it has a huge impact on the optical path.
2. Mechanical structure is subject to thermal expansion and cold contraction due to temperature changes. The deformation of mechanical structure leads to changes in the position of the lens, resulting in changes in the optical path and finally causing the picture to be unclear.
Although both are small changes, they are happening at the same time, which leads to the obvious change of the optical path.